Peelo and its use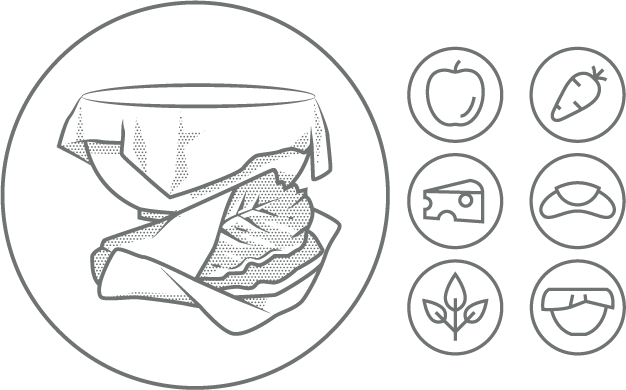 Heat up the wrap with warmth of your hands and use it to cover a container or dinner leftovers in a bowl.
After use, rinse with lukewarm water and if needed, use an ecological detergent and a soft sponge. Let it air dry or wipe it down with a kitchen towel.

Do not put the wrap in hot water, the microwave, and do not expose it to direct sunlight, this would ruin the beeswax layer.
We do not recommend direct contact with raw meat or mouldy cheeses. Leave these in a container and cover it with your beeswax wrap.
Which foods does Peelo love?
Free your cheese from plastic and store it in a beeswax wrap. It will not keep it's authentic flavour and breathe, while letting out excess moisture that usually stays inside a plastic wrap.
Did you only use half of an avocado, onion or cucumber today and you want to leave the rest for tomorrow? Wrap the leftovers into a beeswax wrap and you will not have to cut off the dry ends next time.
Wrap your herbs in our wraps and keep them crunchy and fresh for many days.
Use our Peelo Wax Pouches to store bread and keep it fresh. It will not sweat like it does a plastic bag and will keep its crunchy crust for a whole week.
Are you baking homemade buns or do you like to ferment? Beeswax wraps are great for covering dough or fermented cabbage, which needs a bit of air for fermentation.
Peelo is friends with every ham sandwich and grilled chicken. However, if you are preparing raw meat for a grill party and you just marinated it, keep it in a bowl and cover that with a beeswax wrap - Peelo does not really get along with raw meat.
---
You can find tips on how to take care of Peelo, regularly on our Instagram.
---